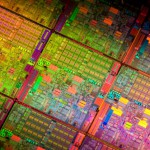 2020 Semiconductor revenue grew 10.4% in 2020 over 2019 to finish  at $473.3 billion, says Omdia in its Semiconductor Competitive Landscape Tool (CLT).
The last three months of 2020 were the best quarter ever recorded for semiconductor revenue, reaching $130.6 billion and eclipsing the previous high of $130.4 billion in 3Q18.
The second half of 2020 was much stronger than the first, and 3Q20 and 4Q20 semiconductor revenue rose 9% and 7% QoQ respectively, as consumer demand returned for many applications in 2H20.
H1 2020,  with the shift to work-from-home and educate-from-home drove a need for cloud infrastructure which benefited DRAM and NAND  with memory IC revenue up 10% QoQ from 1Q20.
The top seven semiconductor firms have occupied the top seven slots since 2016, although the order has alternated amongst them.
The top ten of 2019 was also the top ten of 2020, except for ST Microelectronics, which slipped from 8th to 12th in 2020 despite seeing semiconductor revenue increase 6.9% for the year.
Notable growth came to the major mobile processor firms. Large revenue increases by Qualcomm and MediaTek were driven by strong demand for smartphone chipsets to close out 2020 as 5G continues to ramp.
Both firms experienced greater than 45% growth in 2H20 from 1H20 in this segment.
Despite this strong growth, Qualcomm rose only from 6th in 2019 to 5th in the 2020 semiconductor market share rankings.
Intel continues to lead the market with the major memory makers (Samsung Electronics, SK Hynix, and Micron Technology) rounding out the top-four.
The memory market was a primary contributor to the 2019 decline in semiconductor revenue, with DRAM declining 37.2% and NAND declining 24.6% in 2019.
Both memory types returned to growth in 2020, with DRAM up 6.7%. But NAND was one of the semiconductor market's strongest performers last year, up 24.3% to $57.2 billion, benefiting from strong demand for cloud services and PCs.
MPU revenue, representing 14% of the entire semiconductor market, increased 12.4% in 2020 driven by laptop and desktop increases as people were forced to work and study from home.
Analogue components, also representing nearly 14% of the semiconductor market, saw revenue increase 26% in 2H20 from 1H20. Analogue  grew 9% in 2020, spurred by 20% growth in ASSPs for wireless communications.
The automotive semiconductor market struggled in 2020, experiencing an annual decline of 4.4%, as an initial drop in consumer demand all but stalled auto sales early on in 2020. But the market ended 2020 with positive signs as demand began returning at the end of 2020.
Unfortunately, this return in demand was hampered when automakers came back with orders for semiconductor parts that were more difficult to procure. Capacity on production lines for these parts was already largely allocated to other components that had also increased in demand.